esta me gusta mucho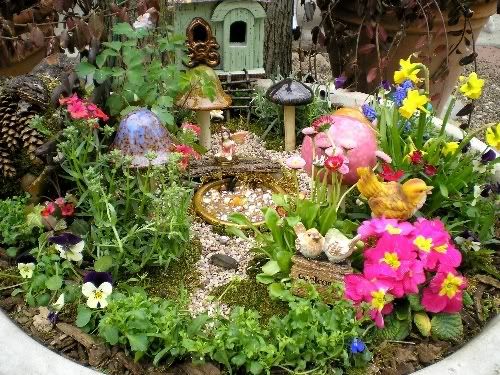 Jardines de hadas son cada vez más popular en el jardín de su casa.
For centuries, the world has been fascinated with the idea that "wee folk" live among us and have the power to spread magic and mischief throughout our homes and gardens.

Durante siglos, el mundo ha estado fascinado con la idea de que la "gente del wee" vivir entre nosotros y tienen el poder de difundir la magia y la maldad en nuestros hogares y jardines.
While evidence of the existence of fairies is slim, adding fairy gardens to our own gardens is a way of participating in this centuries old tradition of trying to please the spirits and gain their favor.

Aunque las pruebas de la existencia de las hadas es delgado, jardines de hadas añadir a nuestro propio jardín es una forma de participar en esta tradición de siglos de antigüedad tratando de complacer a los espíritus y obtener su favor.
What are Fairy Gardens?
¿Qué son los jardines de hadas?
Fairy gardens are basically miniature gardens with added touches that give the appearance of a tiny creature residing in the garden.

Jardines de hadas son básicamente mini jardines con toques añadido que dan la apariencia de una pequeña criatura que residen en el jardín.
Many fairy gardens are planted in a small, almost secluded location in your garden, somewhere that someone will feel that they simply "stumbled" upon a magical location.

Muchos jardines de hadas se plantan en un lugar pequeño, casi aislado en su jardín, en algún lugar de que alguien se sienta que simplemente "tropezó" en un lugar mágico.
But just as many miniature fairy gardens are planted in containers . Pero al igual que muchos jardines de hadas en miniatura son plantadas en los recipientes.
Fairy gardens are also normally filled with whimsical items to add to the feeling of magic.

Jardines de hadas son también normalmente lleno de elementos caprichosa para añadir la sensación de la magia.
Fairy Garden Ideas
Fairy Garden Ideas
Before you build your fairy garden, you should give some thought to what kind of fairy garden you would like to build.

Antes de construir su jardín de hadas, se debe reflexionar sobre qué tipo de jardín de hadas que desea construir.
One popular idea is to build a woodland fairy garden.

Una idea popular es la construcción de un jardín de hadas del bosque.
These miniature gardens are normally installed at the foot of a tree in a shaded part of the garden and incorporate forest themed items like tree leaves and a door on the trunk of the tree. Estos jardines en miniatura normalmente se instalan al pie de un árbol en una zona sombreada del jardín y de incorporar la temática de los bosques elementos como hojas de los árboles y una puerta en el tronco del árbol.
Other fairy garden ideas include a flower fairy garden.

Jardín Otras ideas incluyen un jardín de hadas hada de las flores.
In a flower fairy garden, you can expect to find a small cottage surrounded by flowers and grass with perhaps other miniature fairy garden decor added.

En un jardín de hada de las flores, usted puede esperar encontrar una pequeña casa de campo rodeada de flores y pasto con tal vez otros en miniatura decoración de jardín de hadas agregó.
One other fairy garden idea is to convert the edge of a water feature in your garden to a fairy dock.

Otra idea de jardín de hadas es la de convertir el borde de una fuente de agua en su jardín para un muelle de hadas.
A small boat or raft tacked to the edge of your water feature with other fairy garden decor "clues" to indicate that the wee folk have come to live on your shores.

Un pequeño bote o balsa pegada en el borde de su fuente de agua con otros decoración del jardín de hadas "pistas" para indicar que la gente wee han venido a vivir en sus orillas.
Really, fairy garden ideas are only limited by your own imagination.

En realidad, las ideas jardín de hadas son sólo limitados por su propia imaginación.
Have fun with it.

Diviértete con ello.
Fairy Garden Designs
Fairy Garden Designs
Once you have decided on what kind of fairy garden you would like, you need to decide on the design of your fairy garden.

Una vez que haya decidido sobre qué tipo de jardín de hadas que le gustaría, tiene que decidir sobre el diseño de tu jardín de hadas.
A fairy garden can either be installed right into your garden or it can be grown as a container garden.

Un jardín de hadas se puede instalar a la derecha en su jardín o puede ser cultivado como un jardín de macetas.
Both fairy garden designs have their advantages.

Ambos diseños de jardín de hadas tienen sus ventajas.
Building a fairy garden right into your existing garden allows for the feeling that your miniature fairy garden is the genuine thing, that an actual fairy has moved right into your garden.

Construcción de un derecho jardín de hadas en su jardín existente permite la sensación de que su jardín de hadas en miniatura es la cosa real, un hada que ahora se ha movido a la derecha en su jardín.
The down side of fairy gardens placed right into the garden is that the elements will eventually destroy the fairy garden decor you put in the garden.

La otra cara de los jardines de hadas situado justo en el jardín es que los elementos finalmente destruirá la decoración del jardín de hadas que puso en el jardín.
Also, it may be harder for others to enjoy the fairy garden if it is not readily accessible.

Además, puede ser más difícil para los demás a disfrutar del jardín de hadas, si no es de fácil acceso.
Many people choose to build their fairy gardens in large containers.

Muchas personas optan por construir sus jardines de hadas en grandes contenedores.
This method allows the garden to be moved out of inclement weather and to also be enjoyed from wherever in the garden you choose.

Este método permite que el jardín que se mudó de las inclemencias del tiempo y también para ser disfrutados desde cualquier lugar en el jardín que usted elija.
The down side of a container fairy garden is that it does not contain quite the same mystique as a fairy garden hidden in your own garden.

La otra cara de un jardín de hadas de contenedores es que no contiene absolutamente la mística de la misma como un jardín de hadas escondidas en su propio jardín.
Conclusion
Conclusión
However you decide to build your miniature fairy garden, whether it be a woodland fairy garden or a fairy garden of your own imagination, the important thing to remember is that fairy gardens are all about having fun.

Sin embargo, usted decide construir su jardín de hadas en miniatura, ya sea un bosque de hadas jardín o un jardín de hadas de su propia imaginación, lo importante a recordar es que los jardines de hadas son para divertirse.
Get crazy, get silly, just keep it small and I guarantee that the fairies will appreciate (and reward) your efforts.

Se vuelve loca, Get Silly, sólo mantenga las pequeñas y les garantizo que las hadas se aprecian (y la recompensa) sus esfuerzos.
Cuando se planta un jardín encantado para atraer a las hadas, sin duda atraerá a otros amigos a tu jardín de hadas, con casas de pájaros, baños de aves, comederos para aves y comederos para pájaros.
Fairies seem to enjoy the same habitat that butterflies love, so plant flowers, plants and herbs that attract hummingbirds, butterflies and bees.
Las hadas parecen disfrutar el mismo hábitat que las mariposas amor, para sembrar flores, plantas y hierbas que atraen a los colibríes, mariposas y abejas.
When planning your enchanted garden, many plants attract butterflies and fairies...
Al planear su jardín encantado, muchas plantas atraer mariposas y hadas ...
some of the fairies favorite flowers are sunflower , honeysuckle, fernleaf yarrow, summer lilac, red valerian, daisies, cosmos, rosemary, thyme, purple coneflower, pincushion scabiosa, french lavender and heliotrope. (See also Flowers that Attract Fairies ).
algunas de las hadas de las flores favoritas son el girasol, la madreselva, la milenrama fernleaf, verano lila, valeriana roja, margaritas, cosmos, romero, tomillo, equinácea purpúrea, Scabiosa acerico, francés y lavanda, heliotropo. (Véase también flores que atraen las hadas).
Plant pansies , snapdragons, blue columbine, foxglove (foxglove, meaning "Folk's glove" is used for gloves and hats), tulips (tulips are good for clothing and for their babes beds), butterfly, nasturtiums and a long list of other favorites to attract hummingbirds and garden fairies .
Pensamientos Planta, boca de dragón, aguileña azul, Digital (Digitalis, que significa "guante de Folk" es utilizado para guantes y gorros), los tulipanes (tulipanes son buenos para ropa y sus camas chicas), mariposa, capuchinas y una larga lista de los favoritos de otros atraer a los colibríes y las hadas del jardín.
They love fruit trees such as apple, cherry or pear.
Ellos aman los árboles frutales como manzana, cereza o de pera.
They like to use the blossoms for clothing and for spring festivities.
Les gusta usar las flores para la ropa y para las festividades de primavera.
If you happen to live near a stream, you are probably lucky enough to have water fairies in your enchanted garden.
Si le sucede que viven cerca de un arroyo, es probable que la suerte de tener las hadas del agua en su jardín encantado.
Fairies and water sprites love the sights and sounds of water.
Hadas y duendes del agua amor de las vistas y sonidos de agua.
If you don't have a stream, building a water garden is just as good.
Si usted no tiene un arroyo, la construcción de un jardín de agua es tan buena.
Consider adding a small fountain, water fountain, low bird bath, waterfall or fishpond to attract fairies. Focus on the area around the water garden and work your way out from there. Garden statues of fairies will also help attract the wee ones.
Considere la posibilidad de añadir una pequeña fuente, fuente de agua, baño de los pájaros bajo, cascada o estanque para atraer a las hadas. Enfoque en los alrededores del jardín del agua y su forma de trabajo desde allí. Estatuas de jardín de las hadas también ayudará a atraer a los más pequeños.
Shiny wind chimes, gazing globes and colorful garden flags can help you entice gnomes and elves to add their presence.
Shiny campanillas de viento, mirando los globos y banderas colorido jardín puede ayudarle a atraer a los gnomos y duendes para añadir su presencia.
Perhaps you're lucky and have an oak tree in your enchanted garden for attracting fairies...
Tal vez usted es afortunado y tiene un roble en su jardín encantado para atraer a las hadas ...
if not, consider planting an oak tree !
Si no, considere la plantación de un roble!
Fairies cherish the Great Oak and use the acorns for decoration, celebrations and use the tops for hats. Magic oak leaves are used in the autumn celebrations.
Hadas apreciar la Gran Encina y el uso de las bellotas para la decoración, las celebraciones y el uso de las copas de los sombreros. Hojas de roble Magic se utilizan en las celebraciones de otoño.
Hundreds of faeries have been found to live in the oldest Oaks.
Cientos de hadas se han encontrado para vivir en la más antigua Oaks.
There are fairies to be found in every Oak tree.
Hay hadas que se encuentran en cada árbol del roble.
The health and energy of the surrounding fairy garden plays a major role in determining how many fairies actually live in the Great Oak.
La salud y la energía del jardín de hadas que rodea juega un papel importante en la determinación de las hadas cuántos realmente viven en el gran roble.
Try placing crystals in the ground surrounding the Great Oak if you feel that the energy needs lifting.
Trate de colocar los cristales en el suelo que rodea la Gran Encina si usted siente que las necesidades energéticas de elevación.
Don't forget that the wee ones are nature loving and enjoy their fun.
No olvide que los más pequeños son amantes de la naturaleza y disfrutar de la diversión.
When attracting fairies into your garden keep it clear of weeds and slugs, although a small patch that is unkempt or planted with wildflowers is fine, so plan to leave part of your garden a bit unkempt.
Al atraer a las hadas en su jardín mantenerlo libre de malezas y las babosas, aunque un pequeño parche que está descuidado o plantadas con flores está bien, así que planea salir de su jardín un poco descuidado.
This small area will make fairies feel welcomed.
Esta pequeña área hará las hadas se sientan bienvenidos.
It doesn't have to be a very large space, but having this one little space will give joy to your fairy friends.
No tiene que ser un espacio muy grande, pero con este pequeño espacio le dará alegría a sus amigas las hadas.
The final step is attracting fairies to come to your garden is very simple.
El paso final es atraer a las hadas para llegar a su jardín es muy simple.
Ask them.
Pregúntele a ellos.
If you give conscious energy to this event, it will happen.
Si usted le da energía consciente a este evento, que va a suceder.
Believe.
Creer.
http://www.thefairysgarden.com/
http://www.gardenfairy.com/fairygarden/index.htm